President's Message
" RBI mange more!
If the recent monetary policy review is an indicator, RBI does not appear to be impressed by a slew of measures taken by the government of India on FDI in retail and price hike of Diesel and LPG etc. RBI is obviously worried over persisting inflation and expects the Government to introduce more reforms and curb expenditures before it is prompted to consider cut in rates. Present scenario of high interest rates and less than necessary growth in international markets is a matter of continued concern for Indian MSMEs "
- Shri V.K. Agarwal, President FISME

NCEDAR 2012
Date:Dec 4-6, 2012
Venue: Bangalore
AIFPA Show 2012
Date: Dec 13-15, 2012
Venue: New Delhi
PLASTO 2012
Date: Dec 20-23, 2012
Venue: Pune
Reforms for enabling MSMEs to become registered be made top priority: Survey
According to The FISME Factor survey, 70% of readers feel that reforms aimed at enabling unregistered MSMEs to become registered be the top priority of the Ministry of MSMEs.
Finance Fundamentals
Is finance the only hurdle for development of Indian SMEs?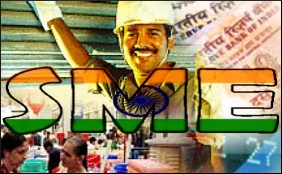 There are number of factors that can help the enterprises look lucrative enough for the investors and get finance for them. Indian SMEs need to deal with some issues smartly to be favourites among financial institutions.
India Factoring: the way to get SME credit beyond banks
The role of a factoring business is yet to gain ground in India wherein small and medium enterprises (SMEs) struggle to get funding support from banks on concern of asset quality. At a little higher cost of funds, a factoring company can well be the liquidity generator to scoot the SME growth engine.
Marketing Mantras
Big ideas for micro units
Entrepreneurs should inculcate corporate discipline in order to be able to attract much-needed investment and financing services.

Directory of Testing Laboratories in India
Buy our one-of-a-kind guide to all industrial testing laboratories in India. Find the one most convenient for getting your products tested and certified. An invaluable compendium for all industrial units and exporters.
PP: 894, Hard Cover.
Price: Rs 900.
50% discount for members.
Handbook for Managing Export Payment Risks
If you are an exporter you simply cannot do without this unique publication which tells you how to manage payment and other risks arising from exports.
PP: 78.
Price: Rs 300.
50% discount for members.
Free Publications
Fertilizer quality control in India: Need for change
This monograph argues for a systemic change in fertiliser quality control. Essential reading for those in policy-making positions.
FISME regularly receives monthly reports on the economies of various countries from their missions in India. These reports provide information on key economic parameters, trade related information and all news relevant for importers and exporters. In this edition you can take a look at reports on:

RBI's quarterly monetary policy: Analysis
The following is an exclusive review for FISME members of the RBI's quarterly monetary policy announced on September 17, 2012. Rajesh Dubey, Advisor (Finance), FISME is the author of this review.
RBI mid-term review comes amid some positive signals namely:
Reform measures undertaken by government of India, viz.,
And some areas of concern, such as:
Hardening of international crude prices and likely to remain so with infused global liquidity, moderation of growth in major emerging and developing economies (including China where Q2-2012 growth has been the lowest in the last 3 years) and drought like condition in most part of the world – is likely to have continued inflationary push on global prices of food and commodities.
Read Details
Macro Metre
Telecom service provider, Vodafone has received over 270,000 entries from small and medium enterprises (SMEs) in India for the second season of the career's Drive into the Big League' programme. The first season had attracted 80,000 entries a year ago. It's a contest meant for enterprises, in the turnover range of Rs 10 crore and Rs 250 crore, to win a logo display opportunity on the Vodafone McLaren Mercedes race cars of Grand Prix from October 26, 2012 to October 28, 2012.
The Jignesh Shah-promoted MCX Stock Exchange (MCX-SX) is gearing up to take on its peers, BSE and the National Stock Exchange (NSE), by setting its eyes on the small and medium enterprise (SME) platform. The latest entrant in the stock exchange arena is planning to launch an SME platform next year, a top official recently said. "There are about 26 million SMEs in India. As per estimate, at least one per cent of them are profitable but lack equity participation. This number of SMEs will be even more than those listed on BSE. So, there is a huge scope for the SME platform. We are surely looking at this option, but will not disclose the details now," said Joseph Massey, chief executive officer of MCX-SX.
Mauritius
Mauritius recently invited Indian women entrepreneurs, particularly in micro, small and medium sector, to collaborate with their counterparts in the island nation in areas such as technology and skill development. "I invite you to explore opportunities and have alliances or joint ventures with your counterparts in Mauritius in areas like skill development, technology and equipment," Mauritius minister Mireille Martinshe Martin said recently.

South Africa
State-owned Bank of India (BoI) has opened its first branch in a move to enhance the relationship between South Africa and India while contributing to the overall development of the BRICS grouping. BoI Managing Director Shri Alok K. Misra said increasing business interaction and trade between the two emerging economic power houses means that banking demand of doing business is rising.

During the period September 1, 2012 to September 15, 2012 a total of 7 new MSMEs became members of FISME.
Read Details