President's Message
"In recent weeks Government has expressed remarkable willingness to come up with the grip of the issues which are holding MSME growth- both on domestic as well as export front. The Cabinet Secretariat is leading the initiative and two Inter-Ministerial Committees have been set up for respective issues. Some of you quickly responded to our call for inputs and based on that we have submitted the first draft to the committees. I call upon all my MSME colleagues to review the Discussion Paper FISME has submitted and send your views and suggestions which could be sent as addendum. "
Giving awards create positive impact on buyers, says MSME
According to The FISME Factor survey, MSMEs fully agree that bestowing awards by Ministries or Institutions to small entrepreneurs create a positive image in buyers.
HR Heuristics
Sometimes the best mentor-protege relationships so often end in a break up
Some amount of conflict is actually healthy for a mentor-mentee relationship, as long as things don't get ugly.
Finance Fundamentals
More liquidity to help banks reduce interest rate: India CEO, Deutsche Bank
The Reserve Bank of India recently said foreign banks those have more than 20 branches should have a steeper target for priority sector lending.
Marketing Mantras
What L'Oreal learns from Indian homes
L'Oreal India's Pierre-Yves Arzel says home visits helped him understand Indians' relationship with water, what beauty products they use and why.
How to make a winning idea out of flop shows
At the core of every successful entrepreneurial journey is that one big idea. Passion alone is not enough.
Policy Polemic
Yours, mine and ours
The consumerist model of growth that the modern human society has adopted contains, unfortunately, the seeds of its own destruction.
SME Special
Skill shortages mar automobile industry
From Gunja
The availability of skilled personnel does not match with the growing manpower requirement of the Indian automobile sector, said a report of the government-appointed expert group. "The quality of the personnel employed, both in terms of knowledge and skills is not appropriately matched to the requirements of the automobile industry in India," said the report on evaluation of the ongoing Assistance to Training Institutions (ATI) scheme of the Ministry of MSME.
Golden fibre making inroads into road construction
From Rohit Kapoor
Images that come to our mind when we hear about coir are traditional items like mats, baskets and ropes; but that is not the case anymore.
Stockpile
The Union Minister for Commerce, Industry and Textiles Anand Sharma recently announced the Annual Supplement 2013-14 to the Foreign Trade Policy 2009-14.
Quotable Quotes
" Think big, think fast, think ahead. Ideas are no one's monopoly. "
-Dhirajlal Hirachand Ambani, Founder of Reliance Industries

Directory of Testing Laboratories in India
Buy our one-of-a-kind guide to all industrial testing laboratories in India. Find the one most convenient for getting your products tested and certified. An invaluable compendium for all industrial units and exporters.
PP: 894, Hard Cover.
Price: Rs 900.
50% discount for members.
Handbook for Managing Export Payment Risks
If you are an exporter you simply cannot do without this unique publication which tells you how to manage payment and other risks arising from exports.
PP: 78.
Price: Rs 300.
50% discount for members.
Free Publications
Identification & Valuation of IPRs in MSMEs
Identification & Valuation of IPRs in MSMEs - Selected Research Papers.
Fertilizer quality control in India: Need for change
This monograph argues for a systemic change in fertiliser quality control. Essential reading for those in policy-making positions.
FISME regularly receives monthly reports on the economies of various countries from their missions in India. These reports provide information on key economic parameters, trade related information and all news relevant for importers and exporters. In this edition you can take a look at reports on:

Following constitution of Inter-Ministerial Committees at the behest of Cabinet Secretary earlier in April, the first meeting of the Inter-Ministerial Committee on 'Accelerating Manufacturing in MSME Sector' was held on April 25, 2013 under the chairmanship of Mr Madhav Lal, Secretary MSME. The meeting was attended by Mr Saurav Chandra, Secretary Department of Industrial Policy and Promotion (DIPP), Ministry of Commerce and Industry, Dr. M. Sarangi, Secretary in the Ministry of Labour and Employment, Mrs. Zohra Chatterjee, Secretary Textiles. Mr Amrenda Sinha, Additional. Secretary and DC, MSME, Mr CK Mishra, Joint Secretary MSME among others. FISME- an invitee to the committee, also took part in the meeting and later submitted a detailed discussion paper containing analysis of the constraints- institutional, regulatory and infrastructural and suggestions to resolve them. It has suggested several strategic initiatives for finance, marketing and technology. Specific set of suggestions: one 'Boosting Exports from MSMEs' has been sent to the Finance Secretary , who is heading another Inter-Ministerial Committee on the subject and anther one focusing on 'Labour Reforms' to the Secretary Labour.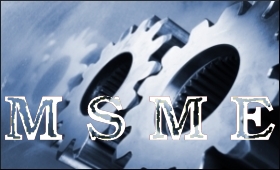 Trade Policy Review Mechanism (TPRM) of World Trade Organization (WTO), Geneva has proposed to conduct the Trade Policy Review (TPR) in respect of Suriname (country on the north-eastern coast of South America) on June 10 and 12, 2013. During the TPR, the member countries may raise questions and concerns on different aspects of policies and practices of the country under review on topics such as economic environment, trade policy regime-framework and objectives, trade policies and practices by measure and trade policy by sector, says an official notice for Micro, Small and Medium Enterprises (MSME) trading with Suriname. All the apex industry body and trade associations are requested to send contentious issues or suggestions or inputs on the topics mentioned with regard to Suriname. The inputs be sent through email to
moc_ftlac@nic.in
latest by May 5, 2013.
'The Best Advice I Got'
-Shivinder Singh, Vice Chairman, Fortis Healthcare
"What I am going to share is not necessarily the best advice I got, but the one I didn't notice initially and which life beat me into realising I must follow, said Shivinder Singh," Vice Chairman, Fortis Healthcare. Suppose if all predictions and analysis point you in one direction, but your deep inner core is not comfortable - DON'T DO IT! Similarly, if most people tell you it's not a good idea, or too risky a move, but you deeply feel it is the right thing to do - Listen to your inner voice. Trust your judgment. The only thing important is don't be foolish, and use this as an excuse to shoot from the hip - "Oh! I just felt like this was the right thing to do."
[Adapted from the Best Advice I Ever Got, Business Today]
Macro Metre
With all signs pointing to inflation coming down, the Reserve Bank of India (RBI) is expected to cut interest rate by 0.25 percentage points and inject extra cash into the banking system by reducing the cash reserve ratio (CRR) for banks. The RBI will do a credit policy review on Friday. Experts believe the central bank has every reason to go for rate cut as the fall in crude oil, gold prices and global commodity prices are bound to have a positive impact on the current account deficit. India's headline measured by the whole sale price index inflation dropped to 5.96 per cent in March compared to 6.84 in February, the lowest recorded inflation data in 40 months. This will give the RBI Governor Duvvuri Subbarao more room than before to cut rates to boost both economic and industrial growth.
The Ministry of Micro, Small and Medium Enterprises (MSME) has asked PSUs and other departments to furnish details with regard to purchases made from small units in 2012-13. The details of annual procurement for the current fiscal have also been sought from PSUs and ministerial departments, Parliament was informed recently. "The government ministries/departments/PSUs have been requested to provide details of procurement made from Micro and Small Enterprises (MSEs) owned by SC/ST in 2012-13 and details of annual procurement plan for 2013-14," Minister of State (Independent Charge) for MSME K H Muniyappa said in a written reply to the Rajya Sabha.
The number of medium firms that became sick during 2011-12 rose sharply by 44 per cent, although micro and small units witnessed a decline of 5 per cent. "The number of sick units in the medium category rose to 3,044 in 2011-12, from 2,117 units in the previous year," Minister of State for Micro, Small and Medium Enterprises (MSME) K H Muniyappa said in the Rajya Sabha recently. However, Muniyappa said the number of sick micro and small units declined to 85,591 in 2011-12, compared to 90,141 enterprises a year-ago, referring to Reserve Bank data.
Mr Mahipal Gupta, Chairman and Managing Director of Autolite India Ltd and member of CEC of FISME has been honoured with Vaishya Gaurav Award for valuable services in the social sectors and achievements in business by Mr Ramdas Agarwal, President of International Vaishya Sammelan and former Member of Parliament and Mr Ramesh Chandra Agarwal, Chairman of Bhaskar Group. Autolite India Ltd is member of FISME. Rajasthan Pradesh Vaishya Mahasammelan was held on April 21, 2013 in Jaipur.
Belgium
Pakistan
United Kingdom
United States of America
Write and Win prize!
Write your comments on the FISME Factor. Share your views and suggestions on MSME issues. Win prize! The best mail will get a special book every fortnight.
send mail to:
newsletter@fisme.org.in
There are business opportunities available for Indian companies in Srilanka. The interested MSMEs can check details.

There are business opportunities available for Indian companies in Turkey. The interested MSMEs can check details.

During the period from April 15, 2013 to April 30, 2013 a total of 3 new MSMEs became member of FISME.